Description
Cryptocurrency Product for WooCommerce WC Vendors Marketplace Add-On enables frontend features of the PRO plugin for cryptocurrency products. Your customers can become vendors and sell their own crypto currencies from your store without wp-admin pages access.
Only ETH and BTC are accepted on this site. Additional 10% discount is applied if paid with crypto here. Click this button to pay with credit card or any other fiat payment options:
Or just install the Cryptocurrency Product for WooCommerce plugin and then go to Settings > Cryptocurrency Product > Add-Ons > WC Vendors Marketplace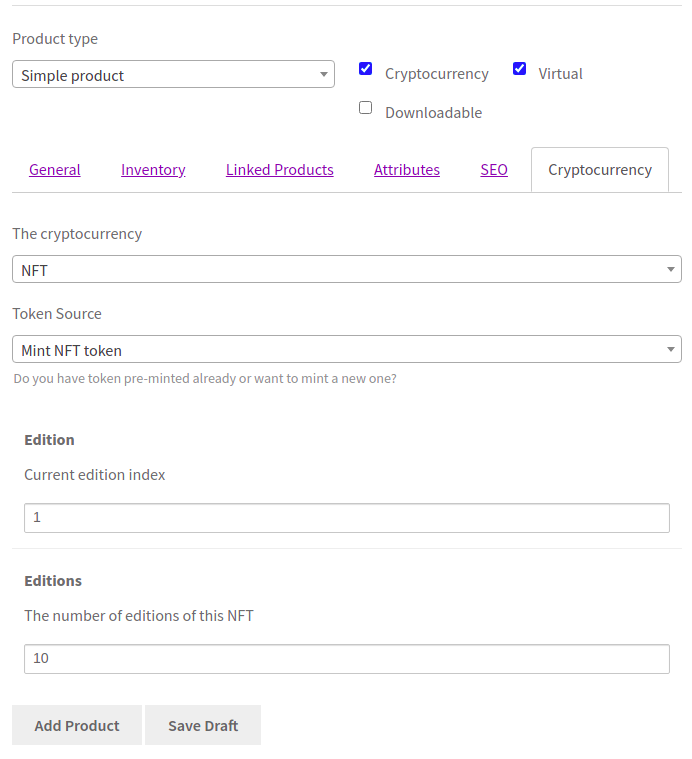 Features – WC Vendors Marketplace
Create your own multivendor marketplace with WordPress powered by WooCommerce. Build your own marketplace just like Amazon, Etsy, eBay or shopify, envato quickly.
It has been used to build a variety of multivendor marketplaces including:
Online art gallery
Local farmers markets
Cooking classes
Sports memorabilia auction site
Used book store
Hand made furniture
There is no restrictions on the number of vendors or products your marketplace can create. Your marketplace will allow your vendors to sell a range of different products including:
NFT tokens products
ERC20 tokens products
Bitcoin (BTC) products
Physical products
Digital and Downloadable products
Variable products
Subscription products
Booking products
Auctions
It has an advanced commission system that allows you to set commissions for a variety of situations:
Percentage
Percentage + fee (Pro)
Fixed (Pro)
Fixed + fee (Pro)
Sales by vendor (Pro)
Sales by Product (Pro)
Product Price (Pro)
With the WC Vendors Marketplace plugin you are able to control how products are published, vendor registration be it manual or automatic, what product types the vendors can post and customer information the vendors can see.
With WC Vendors Pro you have even finer grained control. You have total control of the product edit forms including what fields are visible and what are required for vendors. By providing a complete frontend dashboard for your vendors you can allow them to manage their storefronts while you can focus on sales and marketing.
Auctions
The WC Vendors WooCommerce Simple Auctions plugin can be used to add an auction functionality to your multi vendor crypto store.
Disclaimer – WC Vendors Marketplace
By using this plugin you accept all responsibility for handling the account balances for all your users.
Under no circumstances is ethereumico.io or any of its affiliates responsible for any damages incurred by the use of this plugin.
Every effort has been made to harden the security of this plugin, but its safe operation depends on your site being secure overall. You, the site administrator, must take all necessary precautions to secure your WordPress installation before you connect it to any live wallets.
You are strongly advised to take the following actions (at a minimum):
By continuing to use any of the ethereumico.io plugins, you indicate that you have understood and agreed to this disclaimer.
Installation
Requires the PRO versions of the Cryptocurrency Product for WooCommerce and Ethereum Wallet plugins.
Need help to configure Cryptocurrency WordPress Plugin?
Feel free to hire me!
Need help to develop a ERC20 token for your ICO?
Use the Crowdsale Contract and ERC20 Token Development Service
l10n – WC Vendors Marketplace
This plugin is localization ready.
Languages this plugin is available now:
English
Russian(Русский)
German(Deutsche)