Description
WordPress Bitcoin Plugin for WooCommerce is a Bitcoin Addon for the Cryptocurrency Product for WooCommerce. It is the only one WooCommerce plugin that allows you to sell Bitcoin for fiat money like USD, EUR, … or any cryptocurrency, like Ether, Litecoin, Dogecoin or any other WooCommerce supports. You can sell your Bitcoin for USD, EUR, or even Ether or some ERC20 token by using the Ether and ERC20 tokens WooCommerce Payment Gateway plugin.
Only ETH and BTC are accepted on this site. Additional 10% discount is applied if paid with crypto here. Click this button to pay with credit card or any other fiat payment options:
Or just install the Cryptocurrency WordPress Plugin for WooCommerce and then go to Settings > Cryptocurrency Product > Add-Ons > Bitcoin
There are Litecoin WordPress Plugin for WooCommerce, Dash WordPress Plugin for WooCommerce and Dogecoin WordPress Plugin for WooCommerce addons are also available.
Live demo – WordPress Bitcoin Plugin
You can buy the Bitcoin Testnet (tBTC) for real money like USD or for cryptocurrency like real Bitcoin or Ether to test the Bitcoin Product for WooCommerce plugin in action.
The Bitcoin Testnet (tBTC) product is a WooCommerce product configured with a help of this plugin. You can buy this product with fiat money like USD, EUR or cryptocurrency like real Bitcoin, Ether e.t.c. tBTC would be sent to your wallet automatically and immediately.
Features
Sell Bitcoin for any WooCommerce supported currency.
Your customer can buy Bitcoin just like any other product in WooCommerce
Dynamic Bitcoin price from Coinmarketcap.com can be configured
The Bitcoin address required input field is added to the Checkout page if the Bitcoin product is added to the cart
Friendly admin panel
The minimum amount of Bitcoin can be set for purchase to protect you from spam purchases
The quantity increase/decrease step is configured per product
The Bitcoin transaction hash and link is added to the order notes to assist you in corner cases
Decimal product quantities can be inputted by users – you can sell 0.005 Bitcoin for example
The Bitcoin tx fee is auto adjusted
Bitcoin test3 network is supported for testing
See the full features list here: Features List
Disclaimer
By using this plugin you accept all responsibility for handling the account balances for all your users.
Under no circumstances is ethereumico.io or any of its affiliates responsible for any damages incurred by the use of this plugin.
Every effort has been made to harden the security of this plugin, but its safe operation depends on your site being secure overall. You, the site administrator, must take all necessary precautions to secure your WordPress installation before you connect it to any live wallets.
You are strongly advised to take the following actions (at a minimum):
By continuing to use any of the ethereumico.io plugins, you indicate that you have understood and agreed to this disclaimer.
Installation – WordPress Bitcoin Plugin
Requires the PRO version of the Cryptocurrency Product for WooCommerce plugin.
See the detailed installation guide: Install and Configure.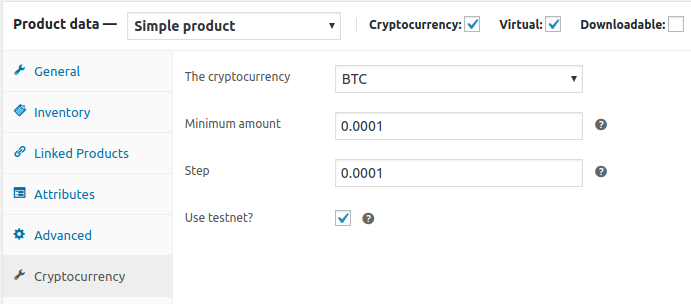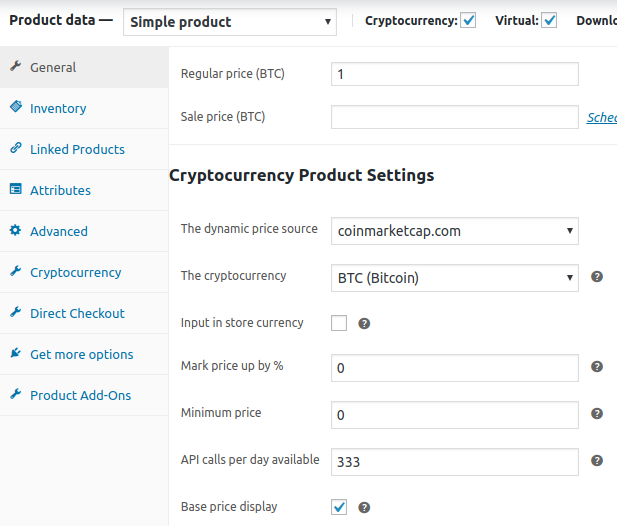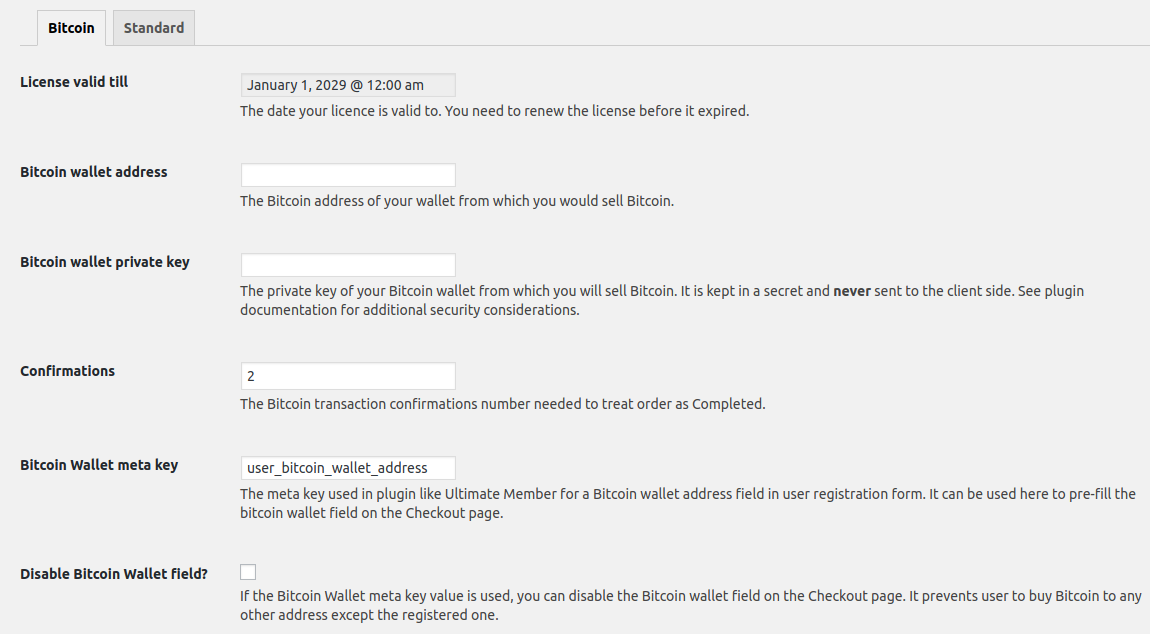 Testing
See the detailed Testing Guide.
Need help to configure the WordPress Bitcoin Plugin for Woocommerce?
Feel free to hire me!
Need help to develop a ERC20 token for your ICO?
Use the Crowdsale Contract and ERC20 Token Development Service
l10n
This plugin is localization ready.
Languages this plugin is available now:
English
Russian(Русский)
German(Deutsche)