Description
Gutenberg WooCommerce Product Editor plugin enables the modern WordPress Gutenberg Editor for all WooCommerce products. Boost your income by improving your WooCommerce store operators productivity with dozens of free and professional Gutenberg Blocks.
Or just install the free Blocks Product Editor for WooCommerce plugin first, and then purchase the Professional or Business plan subscription directly from plugin settings menu.
Gutenberg's all-encompassing goal is a post- and page-building experience that makes it easy to create rich layouts. The block editor was the first product launched following this methodology for working with content.
The default WooCommerce product editor still using the classic WordPress editor for product descriptions instead of the modern Gutenberg Blocks editor introduced in recent WordPress versions.
Blocks allow you to build your own custom posts and pages without any coding knowledge.
Ironically, there is even a native WooCommerce Blocks plugin to add WooCommerce specific blocks to WordPress pages, but no way to add Gutenberg blocks to the core WooCommerce entity's description – the product description.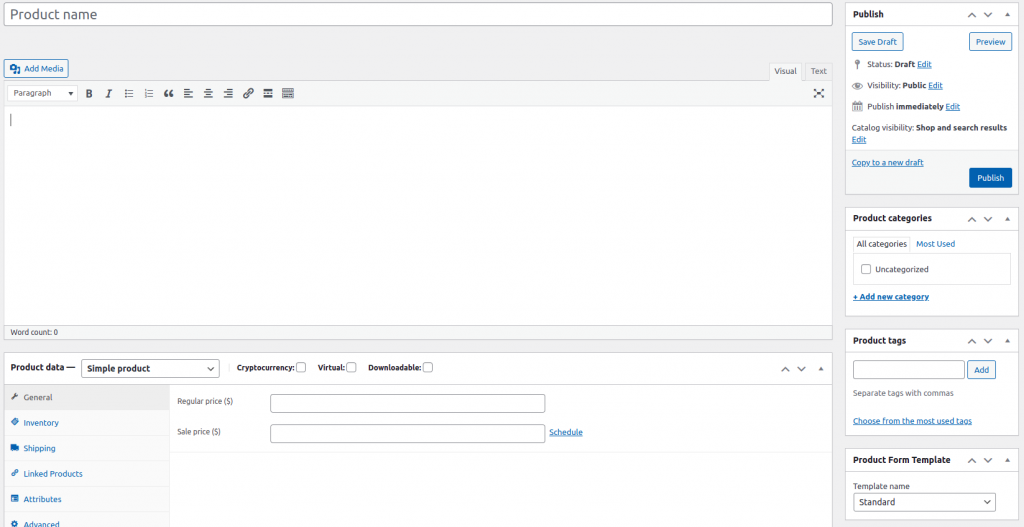 Unless you are happy with simple tools like lists, bold, italic etc. you'll desire for more. Here is where this plugin comes to activate all incredible new editor features for your product description editor.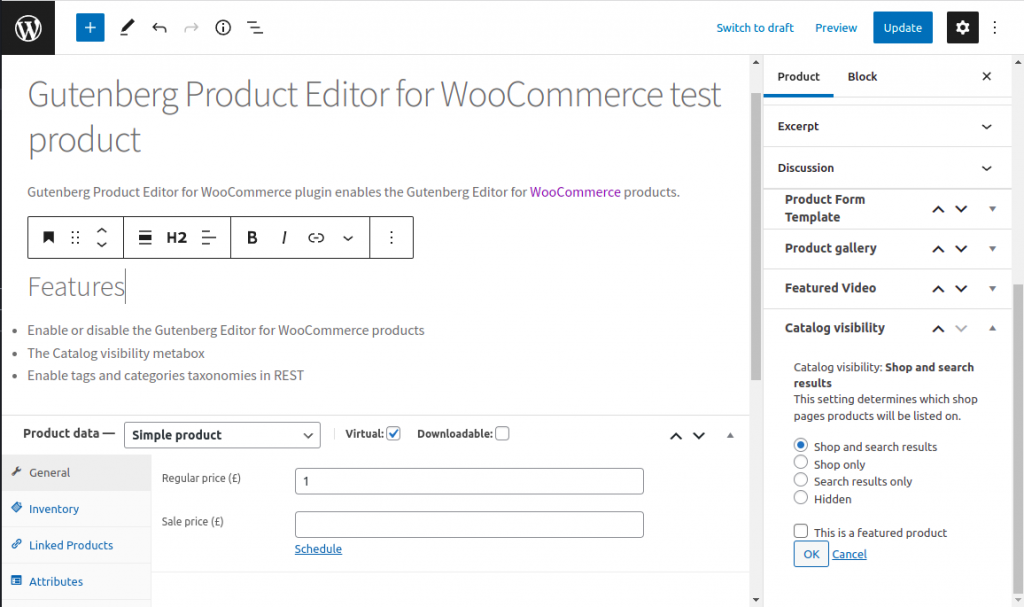 Beautiful content doesn't have to be designed from scratch. With collections of pre-arranged blocks you can make your content impactful, meaningful and appealing.
Features
Enable or disable the new Editor for WooCommerce products

The Catalog visibility metabox

Enable tags and categories taxonomies in REST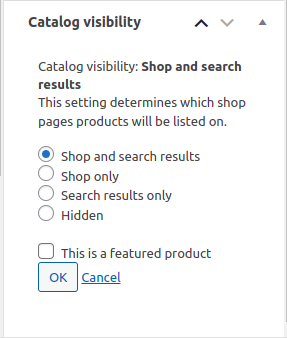 Installation – Gutenberg WooCommerce Product Editor Plugin
Install and activate it as you would any other plugin.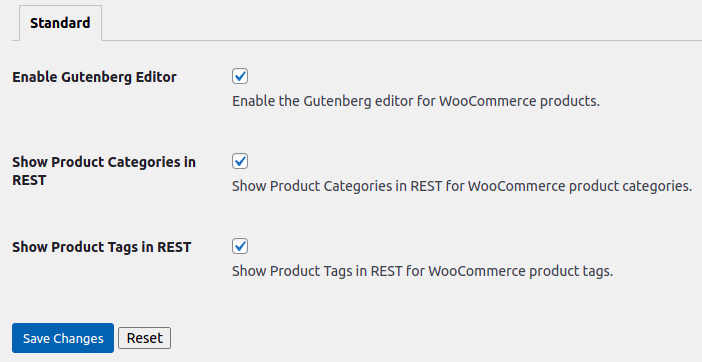 l10n
This Gutenberg WooCommerce Product Editor plugin is localization ready.
Localization for all major languages is done. Your local or globally distributed WooCommerce store operators will be happy to work with this plugin.
Languages this plugin is available now:
English
Arabic (عرب)
Czech (čeština)
Danish (Dansk)
German (Deutsche)
Greek (Ελληνικά)
Spanish (Español)
Persian (فارسی)
French (Français)
Hebrew (עִברִית)
Hindi (हिन्दी)
Indonesian (Bahasa Indonesia)
Italian (Italiano)
Japanese (日本)
Korean (한국인)
Malay (Melayu)
Norwegian (Norsk)
Netherlandish (Nederlands)
Polish (Polski)
Portuguese (Português)
Russian (Русский)
Slovak (Slovenský)
Finnish (Suomalainen)
Swedish (Svenska)
Thai (ไทย)
Philippine (Pilipinas)
Turkish (Türk)
Vietnamese (Tiếng Việt)
Chinese (中国人)
Feel free to translate this plugin to your language.