Description
Check user NFT authentication control (non-fungible token, erc-721 and erc-1155) ownership. Perfect for blocking users access to a Page, a Post and a WooCommerce Product page, if they don't own a certain NFT token.
Or just install the EthPress Web3 Login WordPress Plugin plugin first, and then install the addon from the Settings > EthPress > Add-Ons page.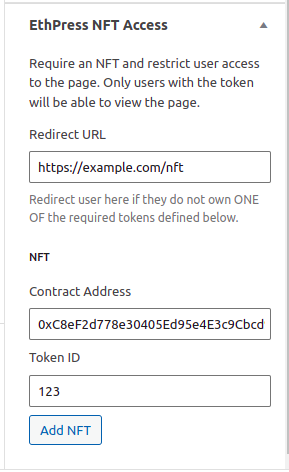 Adds Ethereum NFT integration with WooCommerce products, via EthPress.
Start off by configuring this add-on in your WordPress admin by inputting your,
Infura.io API key.
Your tokens' contract addresses and ids on the WC Product pages, into NFT product data tab.
It can be a valuable addition to your crypto selling store with the Cryptocurrency WordPress Plugin for WooCommerce!
Features
Restrict access to a

Page to some NFT owners only

Restrict access to a

Post to some NFT token owners only

Restrict access to

a WooCommerce Product to some NFT token owners only
Shortcode to display your access level: [ethpress_nft_access_addon_nft product_id="1337"]
Installation – NFT Access Control Authentication WordPress Plugin
Install and activate it as you would any other plugin.
Make a new WooCommerce product and configure NFT token address and (optionally) ID with redirect URL for non-owners.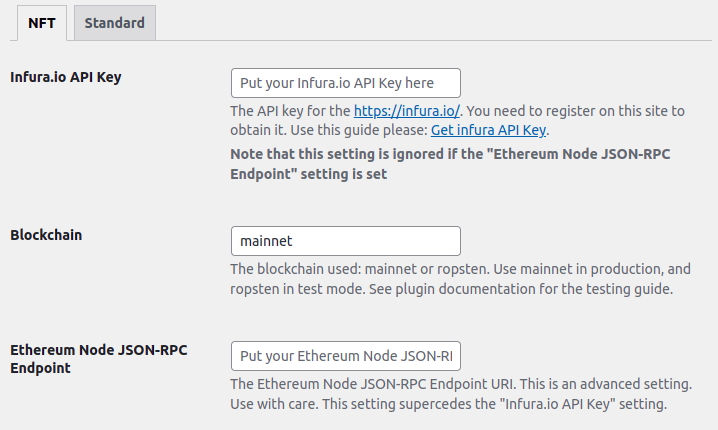 l10n
This plugin is localization ready.
Languages this plugin is available now:
Feel free to translate this plugin to your language.