Choose a plan for your next NFT project
Lifetime subscription is also available. Free 7-days trial and 14-days no questions money back guaranty for all plugins.
Use the WC Vendors Marketplace Add-On to turn your NFT store to multi vendor NFT marketplace. Any EVM compatible blockchain like BSC or Polygon can be used.
Products
Choose your way to sell Ether, ERC20 or NFT tokens, Bitcoin...
Sale!

EthPress Web3 Login Wordpress Plugin adds the capability to connect with cryptocurrency wallets such as MetaMask or WalletConnect QR code
We provide a number of WordPress cryptocurrency plugins, like the Ethereum ICO WordPress plugin, that can help you to perform your ICO. Or simply sell or accept your ERC20/NFT tokens, Ether, Bitcoin, Litecoin, Dash, Dogecoin directly on your WordPress site. Set your MetaMask Ether ICO address and price Ethereum.
Since 2017 we bring the power of the worlds best CMS WordPress to the blockchain and cryptocurrency space
The Ethereum ICO is an Initial Coin Offering performed on the Ethereum blockchain with a help of the Crowdsale smart contract. It can be used to fund your startup idea.
The cornerstone of any ICO is a Whitepaper document that describes all aspects of your project to potential investors. Your team should put a lot of effort in it.
Next step is to build a website for your ICO project. Many ICO projects choose the WordPress web engine for their Crowdsale web sites.
This is where Ethereum ICO WordPress plugins are come to place.
For all plugins you have lifetime support and updates guaranty.
Ethereum ICO WordPress Plugin
Use the Ethereum ICO WordPress Plugin to sell your ERC20 Ethereum ICO tokens directly from your WordPress ICO website. Set your MetaMask ICO address and price Ethereum. Accept Ether for your ICO tokens, show ICO progress bar etc.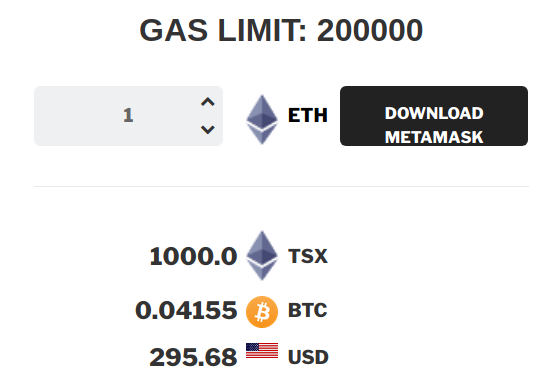 Tokens sell widget
Ethereum ICO progress bar
Tokens balance on the current user account
A table of recent token purchases by anyone, or by the current user
A referral address field
Airdrop mode
Download Metamask ICO button not installed
Automatic rate calculations to USD and BTC
Crowdsale bounty program
The transaction data to send to your crowdsale contract
Caching to limit the API calling rate to a reasonable value
Auto-conversion to other currencies of the Ether amount entered
Coins and token icons display
Min and max Ether amount limits
Test networks like ropsten or rinkeby
The base currency to display in token sell widget, progress bar and tx table
Private sale seed setting to count funds obtained in a non-Crowdsale contract way
Full Ethereum ICO WordPress Plugin Features List
Note that it requires the Crowdsale smart contract to work and can accept the Ether only.
Want to accept Fiat or Bitcoin?
You can sell your ERC20 or NFT tokens for fiat money like USD or EUR, or for any cryptocurrency like Bitcoin or Litecoin with the Cryptocurrency WordPress Plugin for WooCommerce plugin.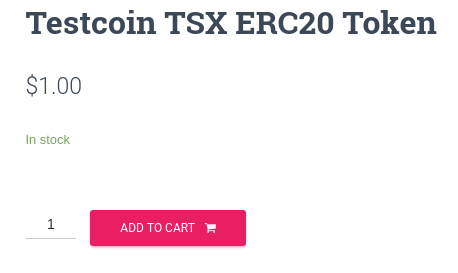 Any fiat money like USD, EUR, … or any cryptocurrency, like Bitcoin, Litecoin, Dogecoin or any other supported by the WooCommerce can be accepted.
This plugin does not use the Crowdsale smart contract to work, it rather sends tokens directly from your hot wallet you need to configure.
All countless WooCommerce-compatible WordPress plugins can be used to enhance your Ethereum ICO marketing strategy in this case.
The AffiliateWP plugin can be used to build an affiliation strategy of any complexity. The Ethereum ICO WordPress Plugin supports only a very basic affiliation strategy. With the AffiliateWP plugin your possibilities are limitless.
Use the myCred plugin to implement user reward programs with myCred Points system. Configure myCred WooCommerce Payment Gateway to accept your myCred Points as a payment method to purchase your Ethereum ICO ERC20 or NFT tokens. This way you can incentivize users with your tokens for actions like reposting, commenting or purchasing.
An Ethereum Wallet for your new Ethereum ICO customers
Your non-techie users may have no Ethereum wallet at all. Support them with the WordPress Ethereum Wallet WordPress crypto plugin.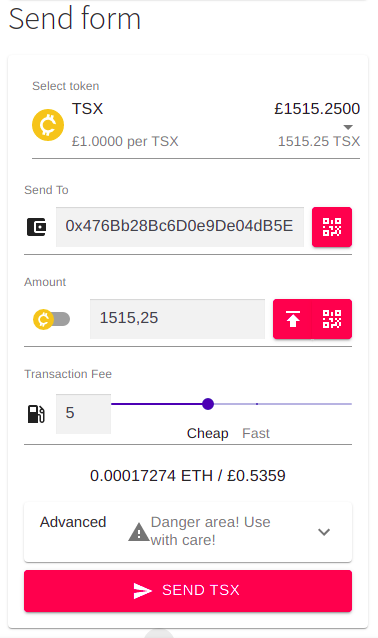 This plugin auto-generates an Ethereum account address upon user registration and allows user to buy your Ethereum ICO ERC20 tokens or NFT tokens to this account.
It is extremely important for users paying you in fiat currencies. Such users have no or very limited cryptocurrency knowledge and do not have Ethereum wallet at all.
Supporting these users with the WordPress Ethereum Wallet plugin you open a door for a wast magority of possible investors with no access to crypto market at all.
Accept ERC20 tokens in your WooCommerce store
Do not miss the free Ether and ERC20 tokens WooCommerce Payment Gateway plugin.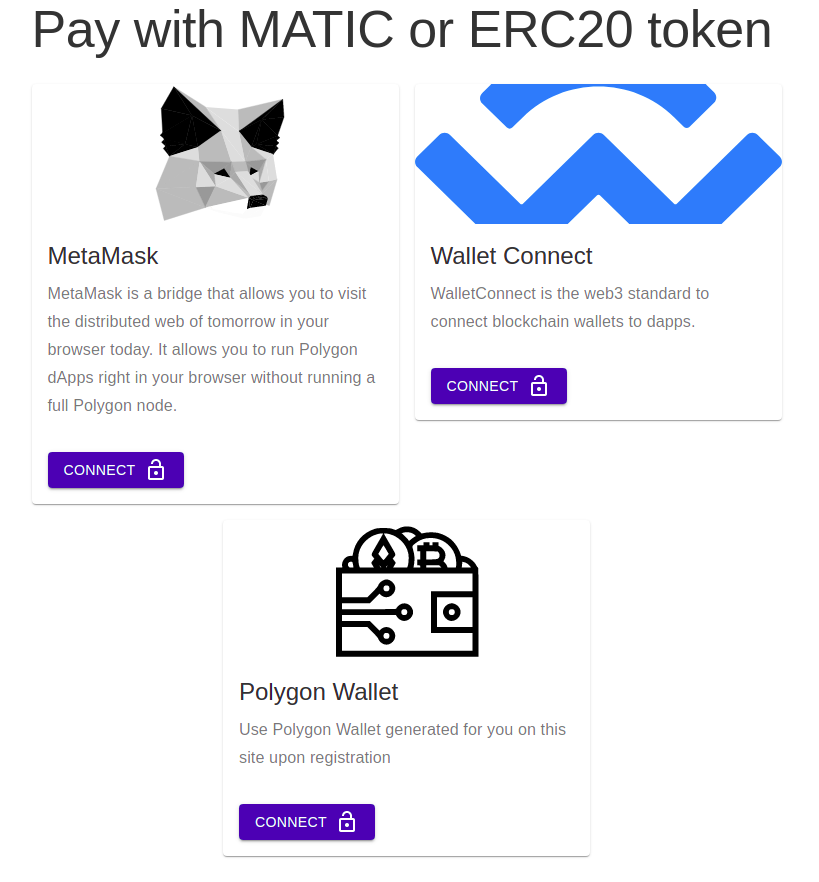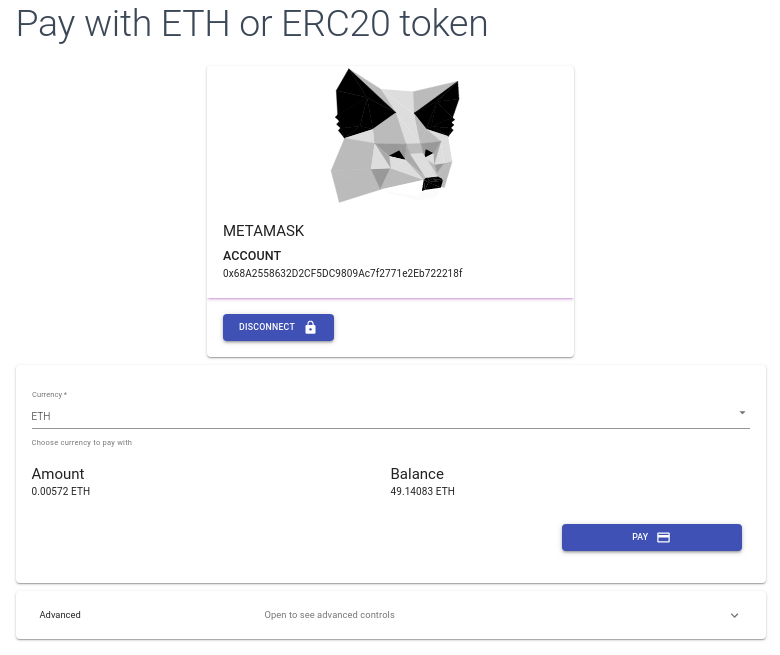 It is the only one true decentralized payment gateway plugin that enables customers to pay with Ether or any ERC20, ERC223 or ERC777 token in your WooCommerce store.
The MetaMask ICO, WordPress Ethereum Wallet plugin, Trust Wallet and QR-code payment methods are supported.
In a combination with the Cryptocurrency WordPress Plugin for WooCommerce you can accept stablecoins like DAI, USDT or USDC for your Ether ICO tokens.
Need help to develop a NFT or ERC20 token for your Ethereum ICO?
If you do not have a ERC20 Ethereum ICO or NFT token or an Ethereum ICO Crowdsale contract yet, use our Crowdsale Contract and ERC20 Token Development Service to develop a ERC20 or NFT token and Crowdsale smart contracts according to your Ether ICO project requirements.
Airdrop your Ethereum ICO tokens
Feel free to use our MultiSend service to airdrop or distribute your Ethereum ICO tokens from your MetaMask wallet as a part of your marketing campaign or token dividends paiment.
Enter a comma-separated list of Ethereum ICO addresses and token values to send and this service will do it with the least Ethereum Gas usage possible saving you a lot of Ether.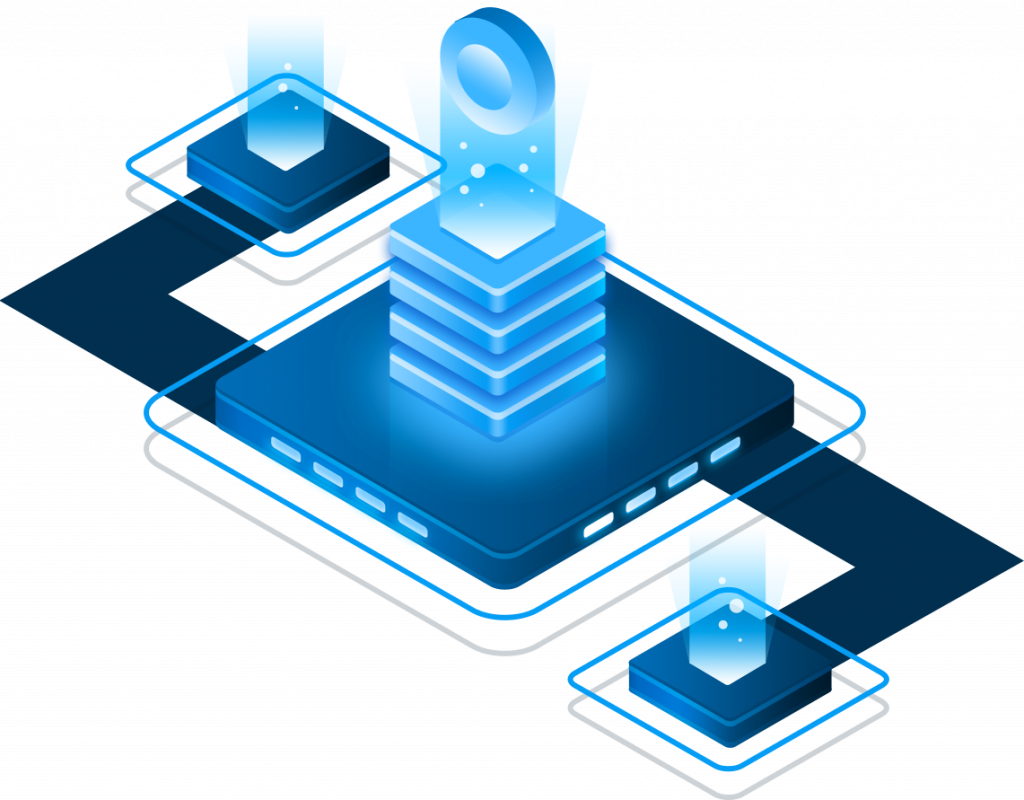 The ERC20 Dividend Payments WordPress plugin can be used to distribute ERC20 token dividends to your token holders that hold their tokens on accounts generated by the WordPress Ethereum Wallet plugin on your site directly.
Sell Bitcoin yourself
These Cryptocurrency WordPress Plugins collection can be used not only for Ethereum ICO websites.
With a help of the Bitcoin WordPress Plugin for WooCommerce You can sell Bitcoin directly from your WooCommerce store without any exchange fee.
Bitcoin would be automatically sent to your customers immediately after their payment would be confirmed by the payment gateway used.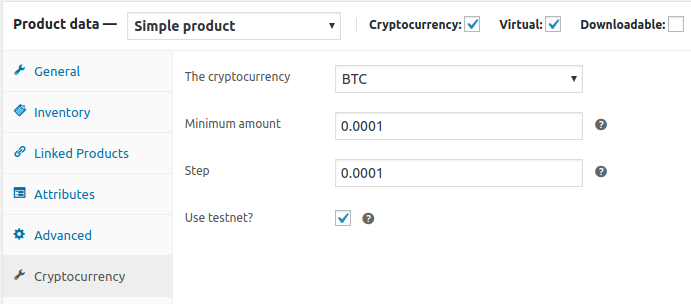 There are Litecoin WordPress Plugin for WooCommerce, Dash WordPress Plugin for WooCommerce and Dogecoin WordPress Plugin for WooCommerce addons also available.
If the automatic delivery featured by the Cryptocurrency Product for WooCommerce plugin does not fit your business model, use the Dynamic Price WordPress Plugin for WooCommerce. Create WooCommerce products dynamically priced as Bitcoin, Gold or any other currency, cryptocurrency or precious metal like Gold or Platinum. Common usecases for the Dynamic Price WordPress Plugin for WooCommerce includes a manual cryptocurrency delivery and purchasing crypto from your clients for fiat.
Sell your collectible ERC721 NFT tokens
Have some collectible ERC721 NFT tokens to sell? Use the NFT WordPress Plugin Kit to sell tokens directly from your own store without any external service fee.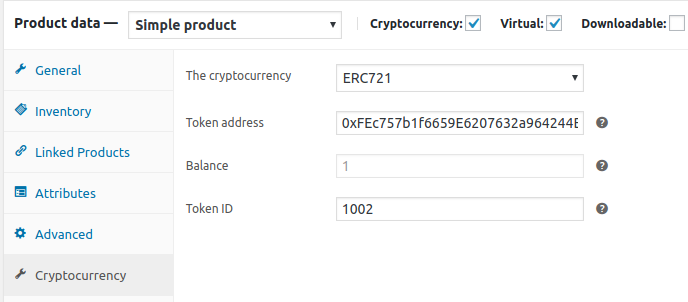 See the NFT Marketplace – HOWTO for all details please.
Again, since your NFT token would be a first class WooCommerce Product, all WooCommerce compatible plugins can be used to enhance your customer's experiences and your profit as a result. Like the Auctions for WooCommerce plugin for example.
Multi Vendor Crypto Store
WC Vendors Marketplace Add-On enables frontend features of the WC Vendors Marketplace PRO plugin for cryptocurrency products. Your customers can become vendors and sell their own crypto currencies from your store without wp-admin pages access.
Meet the WordPress Crypto Plugin team
Since 2017 we providing crypto solutions for projects of any size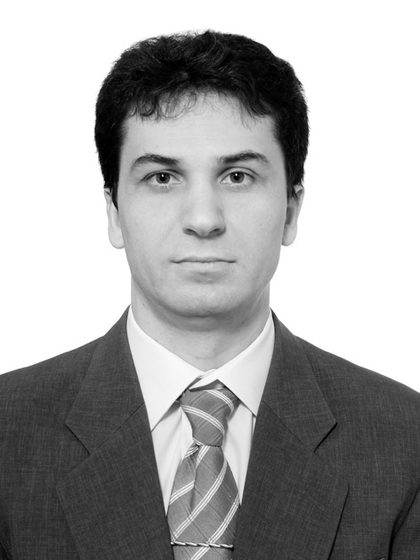 Oleg Abrosimov
CEO, Founder
WordPress plugins development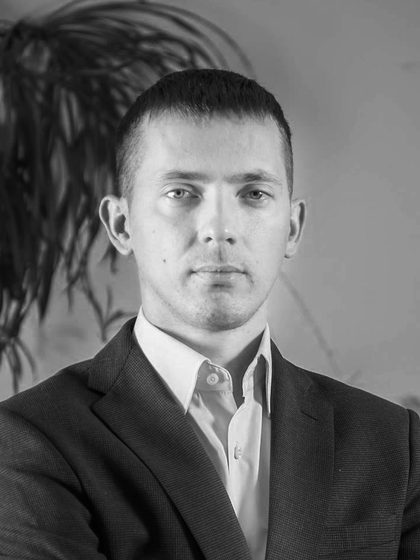 Anton Zubarev
Blockchain and WordPress developer
Ethereum smart contracts development, WordPress plugins development
Get in Touch
support@ethereumico.io
Give us a donation
ETH: 0x476Bb28Bc6D0e9De04dB5E19912C392F9a76535d BTC: 191uyW7ErmusddY6hjwsk984jMhNeyCpBG